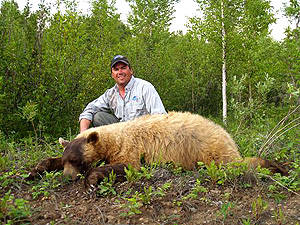 Everybody knows that if you want to hunt big black bears, you gotta go bear hunting in Canada, and in the heart of Canada lies the province of Manitoba. We are located in the Northern part of the province and our area is known for its big black bears and high percentage of blonde and color phase bears.
Do you ever dream about doing a fly-in black bear hunt in a remote location that never gets hunted?
Dunlop's Fly-In Fishing Lodge & Outposts has exclusive rights to this large area, no road access to this location and a reduced number of hunters we take per season guarantees little to no hunting pressure. This careful management ensures high-end results with our harvest!
Our area had never been outfitted before us and the chance at a trophy black bear are very realistic as these bears have not been hunted and have no fear of man.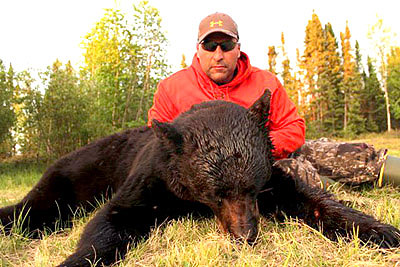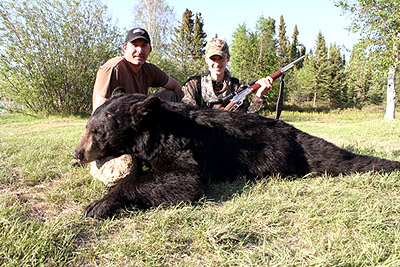 TREE STANDS
Our tree stands are strategically placed in dense bush so the bears feel safe coming in and giving the hunter the maximum advantage.
They're located over bait sites around the lake, river systems and in small creeks coming into the lake.
We use 1 or 2 man ladder stands that are all set for archery and rifle hunters at about 20 yards from the baits.


TRANSPORTATION
All hunters travel around the lake and to their bait sites safely with our 16 to 18 foot Alumarine Pro Guide Deluxe boats.
Our boats are fully equipped with 30 to 40HP Yamaha 4-stroke motors, built in casting decks, GPS devices, first aid kits, depth-finders, built in floor boards, padded swivel seats, rod holders, drink holders, life jackets, paddles and coolers.


TRAIL CAMS
The use of trail cameras sure has helped a lot with determining what size bears are coming unto the bait sites and at what times of the day. They're great tools to help us get you in the right place at the right time.
Just a few trail cam photos of bears below that have not been taken by hunters and are still out there...
GATES TAXIDERMY
We use a very reputable taxidermist in Winnipeg Manitoba who is sure to take great care of your trophy hide. We can ship it to them after your hunt is over, leaving you with one less thing to travel home with and worry about.
Their website is www.gatestaxidermy.com


HUNTING AREA
A few lucky hunters only hunt our area every year, as we are the only outfitter in this large area. Our fly-in location 90 miles northeast of Thompson Manitoba and 165 miles southwest of Churchill is beyond the reach of local and drive-in hunters giving us the freedom to hunt without interruption.
The lake you will be Black Bear hunting on is Waskaiowaka Lake and there is about 30 miles by 14 miles of water to travel.
We have 12 bait sites in this area and we only take 2 hunters at a time so you have the choice of 12 baits for two hunters.


ACCOMMODATIONS
When bear hunters think about hunting in far remote fly-in locations, they think they have to "rough it" in the outdoors. Not at Dunlop's!
Our bear hunters get the privilege of hunting in an area that very few people get to hunt and they get to do it in comfort.
Hunters will stay in a cabin with running water and a hot shower inside the cabin.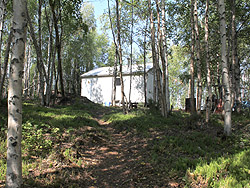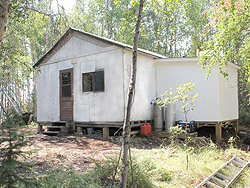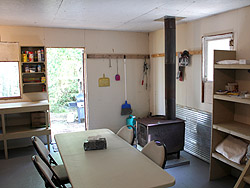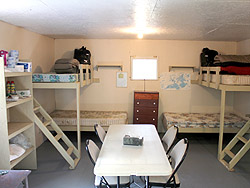 TROPHY BLONDE BEARS!
Most places have black color bears, few places have the cinnamon or brown color bears and even fewer have blonde color bears.
Ours is one of the very few places in North America that consistently has blonde phase black bears on our bait sites.
If a blonde color bear is on your list of animals you would like to get, then you've got to try Dunlop's Fly in Lodge on your next big game hunt.
TROPHY PIKE FISHING GEAR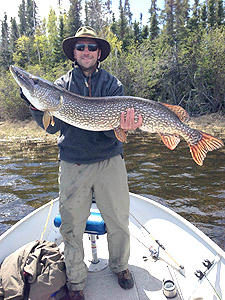 Your Black bear-hunting trip includes fishing on one of the best trophy pike fishing lakes in all Manitoba. You are going to experience some of the best fishing for northern pike and walleye and you need the correct equipment to do so. For the huge pike in these waters you need to bring a medium to heavy action rod with at least 17 lb test line and strong leaders. For walleye, a light action rod with 6 to 10 lb line works best.
We can also supply you with all the fishing equipment you would need so you don't have to worry about traveling with the gear or not having the correct stuff. For a lot more fishing info on these waters check out our fishing website at www.dunlopfishing.com
Trip Info:
Rifle and Muzzle Loader hunters need to report their firearms to Canada Customs. Complete a non-resident firearm declaration form in triplicate, and pay a $50.00 (Canadian) fee. Copies of the declaration form are available by calling 1-800-731-4000, or at the border, or at www.cfc.gc.ca. Handguns and fully automatic firearms are prohibited. Cross bows and Bows do not need to be declared.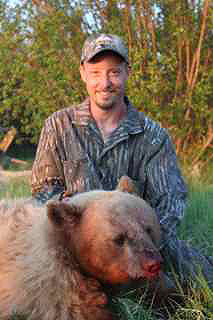 Suggested items to bring:
• Weapon of your choice & everything that goes with it.
• Good hard case for traveling.
• Good quality rain gear
• Insulated Rubber boots
• Waterproof hiking boots & in camp shoes
• Bug suit, you must have coverage for your head and hands minimum
• Bug repellent and or ThermaCell Mosquito repellent
• Layered clothing: come prepared for cold. Spring weather in the far north is very unpredictable.
• Polarized sunglasses
• Camera and film
• A good-sized cooler for your trophy hide and meat. If it is more convenient you may leave your trophy with us and we'll take care of it. We deal with a reputable taxidermist who does excellent work.
• More info on what to bring in the travel planner upon booking.
What's included:
•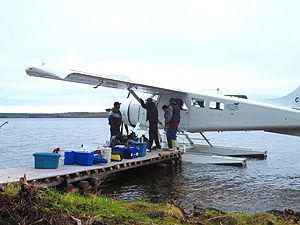 Flight from Thompson Manitoba to camp
• Fully guided hunt
• All food and accommodations
• Bedding, linen & towels
• Skinning, quartering and your trophy stored in freezer
• No extra trophy fee
• Trophy pike & walleye Fishing
Package Price & Details
$3,900 US plus taxes and tag.
Fishing & hunting licenses are available through us.
Hunts originate from Thompson Manitoba
Deposits of $500.00 is due when booking the trip and final payment is due by April 1st.
Extras
All prices, fees and in-camp purchases are in US funds and payable by cash or cheque. Extra charges include pop, miscellaneous purchases in camp, gratuities, taxes, Hunting & fishing licenses, ground transportation and hotel cost in Thompson
A full travel Planner with all the details will be sent out to guest after booking.
CONTACT US TO BOOK TODAY!!
Jerry Dunlop, Lodge Owner/Operator
48 Bluebird Lane, La Broquerie West MB. Canada R0A 0W1
Office 1-204-346 FISH (3474)
Cell 1-204-392-5437